Texts from Lilit: 31 Cards to Connect You to Your Demon
2022
6 x 4 x 1 inches
Open Edition
Texts from Lilit: 31 Cards to Connect to Your Inner Demon is a new artist book by Tamar Ettun that conjures the empathic demon Lilit (Lillith), whose story traces back to ancient Sumerian, Akkadian, and Judaic mythology. Reaching from the dark side of the moon, communicating via text messages, Lilit explores the insidious side of empathy, trauma-healing modalities, and astrology as storytelling. Lilit's texts serve as tools to connect with your inner demons and support integrating shadow selves. The 31-card deck includes demon drawings and somatic exercises, which correspond to the movement of planets and astrological archetypes.

Lilit, the empathic demon is an ongoing project by multidisciplinary artist Tamar Ettun, in which you can text "SUMMON" to Lilit at 833-575-1049 and correspond with her. The Texts From Lilit book was created by Tamar Ettun. Meghana Karnik is the book's editor and contributor of curatorial text.
The book was first printed in conjunction with the artist's solo exhibition "Tamar Ettun: How To Trap A Demon," curated by Meghana Karnik at SUNY Purchase's Richard and Dolly Maass Gallery from October 6 - November 16, 2022.

Book launch and game show at Printed Matter, March 22, 6-8pm
The book is avaialble at

Printed Matter

(New York City), Tomorrow Today (Los Angeles),

Pioneer Works

(Brooklyn),

Ulises

(Philadelphia), and

Sipur Pashut

(Tel Aviv). More stores are coming soon!
You can also purchase the book online from

Artis Contemporary,

here.



The book's price is sliding scale $44-66, and no one should hesitate getting this book for lack of funds. Messgae tamarettun@gmail.com for prices, to buy it directly from me, or to carry the book in your store or library.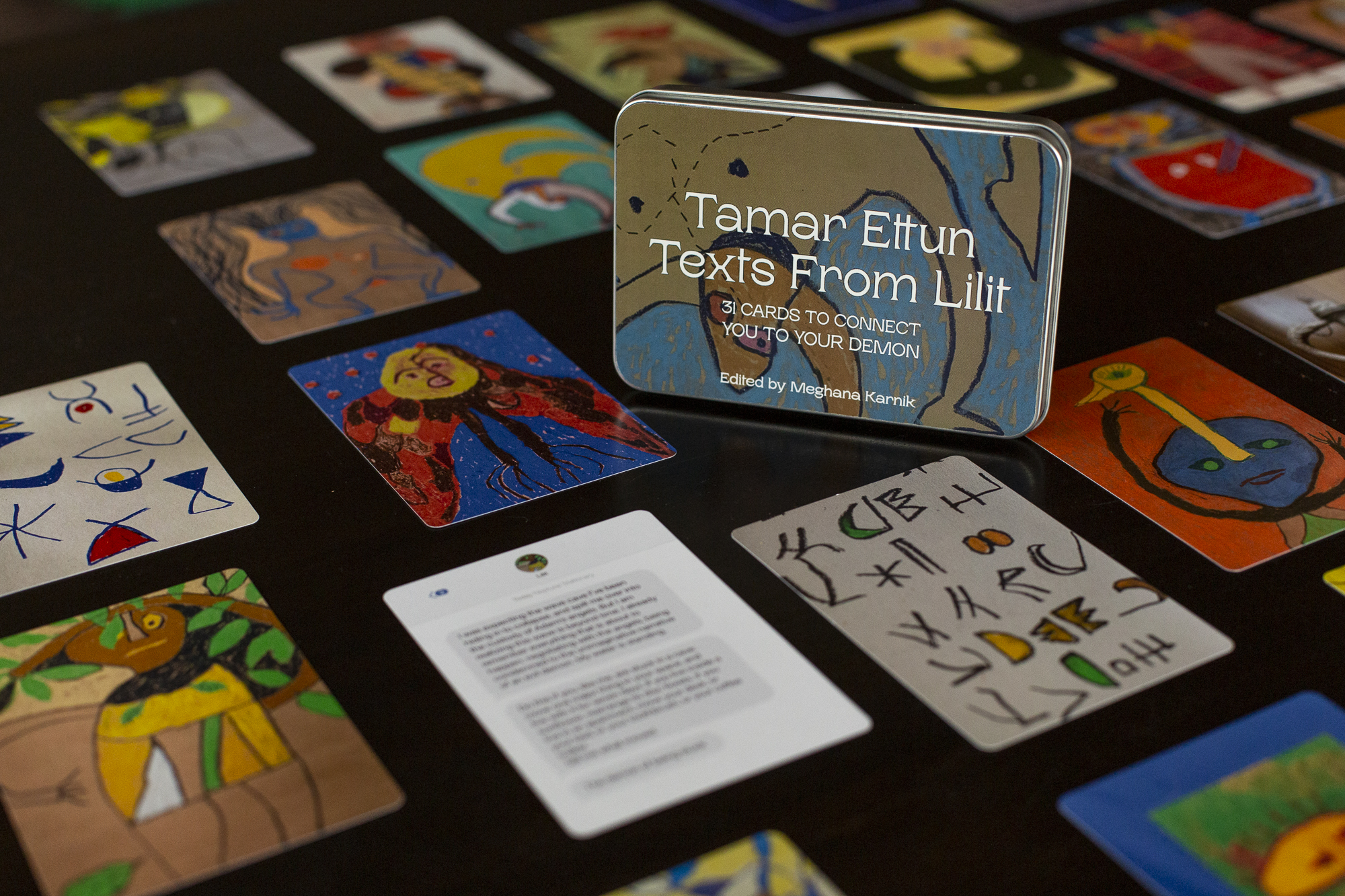 Photos by Yann Chashanovski
Photo: Yann Chashanovski