Community Engagement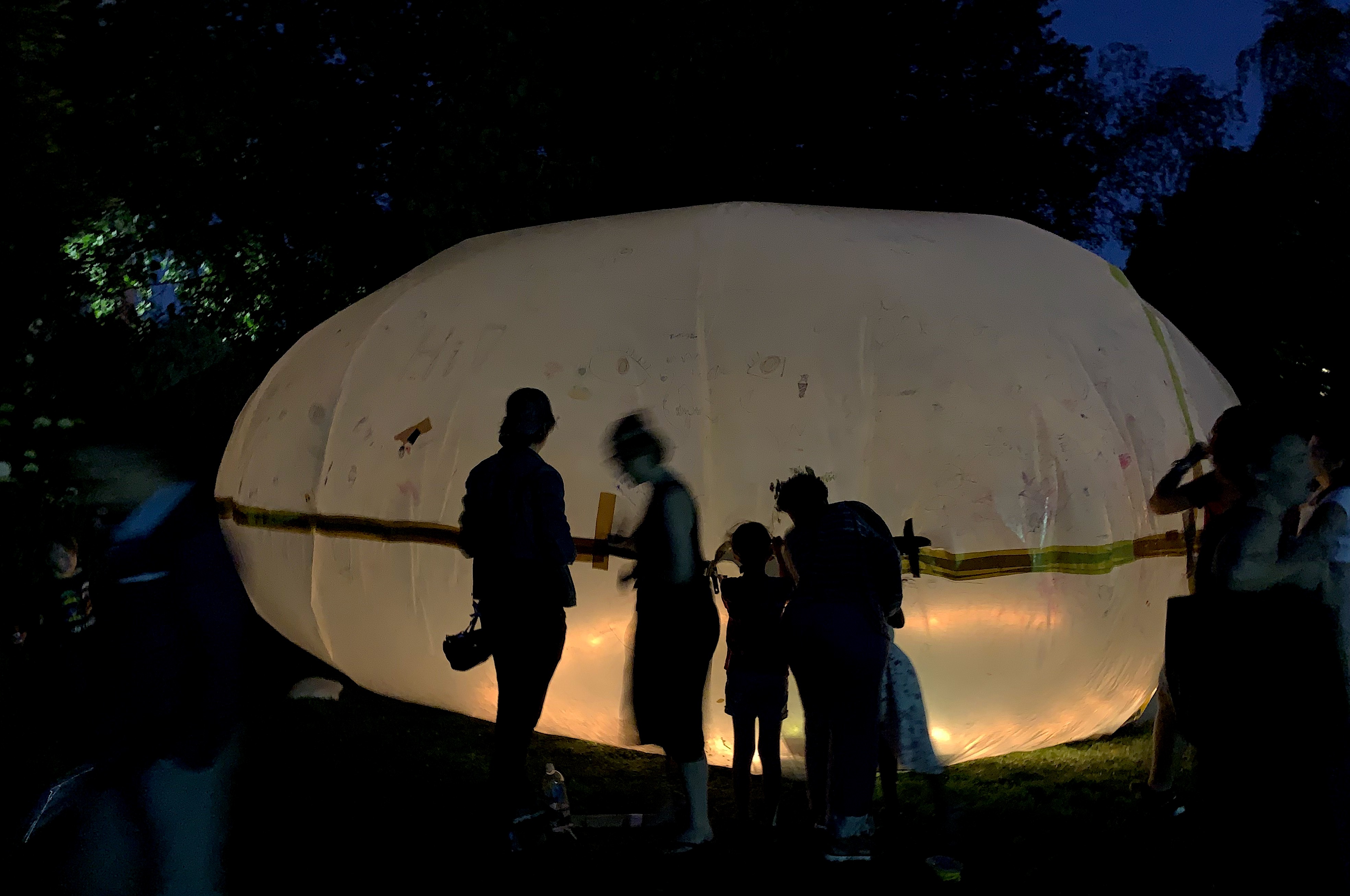 2019
Interactive light-up inflatable at Socrates Sculpture Park.
Large-scale inflatable made from recycled plastic and tape. The audience was invited to draw inside and on the inflatable and watch it light up after sunset.
Video: Lorena Barrera Enciso
2018-2019
Art, Poetry and Dance at
Katonah Museum of Art
in collaboration with children from Cornell Academy.
Pamela Hart (poetry) and Tamar Ettun (dance)
2017-2018
Playshops
In a concrete effort to build community and create access to contemporary art, The Moving Company collaborated on a series of movement workshops with teens from
Community Counseling & Mediation
Center and
The Diaspora Center
from our neighborhood in Brooklyn. At the end of these workshops, students performed at the Brooklyn Museum "Teen Night," followed by the publication of a zine featuring stories based on interviews with the students.

Orange! Stories of play and joy is sponsored, in part, by the Greater New York Arts Development Fund of the New York City Department of Cultural Affairs, administered by Brooklyn Arts Council (BAC).

Diaspora Community Services:
Vanessa Mejia, MPH, CLC, MHFAYouth Services Program Manager
Kyle Everage, MPH, MSEd, MBAcSenior Health Educator

Participating Teens from Diaspora Community Services:
Visquel Bourbon, Oneil Craig, Rolanda Delma, Justin Durrant, Juleanna Francois, Prince James Harry, Jameel John, France Leazard, Joshua Lovell, Tyiera Newland, Briyanna Reets, Keshona Sylvester, Kiara Timms, Tigani Vernon

The Moving Company: Rebecca Pristoop, Tina Wang, Annabel Paran, Nathan Albright

Led by Laura Bernstein and Tamar Ettun

Guest Writers:
Amy Zion, Christina Olivares, Carlos Jimenez Cahua

Photographer: Charlie Rubin

Brooklyn Museum:
Lindsay C. Harris, Teen Programs Manager, Brooklyn Museum
BkM Teens, LGBTQ Teen Night representative:
Zaria Weeke, Isaiah Lewis, Anna Kinlock
Pink! Stories of Play and Aggression
Community Counseling & Mediation Leaders:
Naphtali Aiken - Program Director of WLG/ SYEP Programs


Neville Michelin - Educational Supervisor, Senior Intake Officer
Britany Garcia - Educational Specialist
Participating Teens from the Mediation center:
Ayanna Alexander, Nia Ambrose, Ayannia Gill-Robinson, Kymani Birkett, Sariya Bland, Sade Dean, Tabrea James, Iset Jones, Damani McLauren, Catreece Oden, Angelia Perdomo, Amoni Williams, Cleo Lewis, Kymani Hall, Tre-Lawn Noel, Sequan Lewis, Dylan George, Aydonis Aytch
The Moving Company: Haleigh Nickerson, Mor Mendel, Tina Wang, Annabel Paran, Sabrina Shapiro, Rebecca Pristoop, Nathan Albright, Eva Davidova

Led by Laura Bernstein and Tamar Ettun
Contributing Writers:
Sarah Lehat, Wendy Vogel, Ian Cofre, Noa Lembersky
Photographer:
Charlie Rubin
Special Thanks To:
The Brooklyn Museum for providing us with rehearsal space

Anne Pasternak - Shelby White and Leon Levy Director of the Brooklyn Museum Suhaly Carolina - Community Relations Manager
Katherine Kusiak Carey - Education Department

Doreen Remen of Art Production Fund